In the pharmaceutical, life sciences and healthcare industries, the time spent gathering, normalizing, analyzing and interpreting commercial data is staggering. But does it have to be that way? Our exclusive new industry insights paper looks at five ways to make business intelligence workflows smarter. Download your copy today.
This paper was written based on the expertise of our dedicated team at the Center of Excellence for Commercial Data Management in Cologne, Germany.
They are also the designers of Datacrest
Formerly known as PARS, Datacrest is now a more powerful and user-friendly solution, offering a next-generation user experience that facilitates even the most complex analytics. Datacrest is a market-leading third-party business intelligence solution for commercial data management in the dynamic pharmaceutical, life sciences and healthcare industries.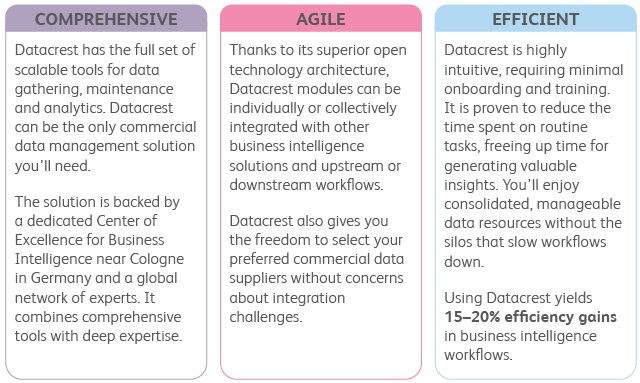 Just as the best view of a landscape is from the crest of a mountain, the smartest view of your market is with Datacrest.
Contact us here to request a demo!